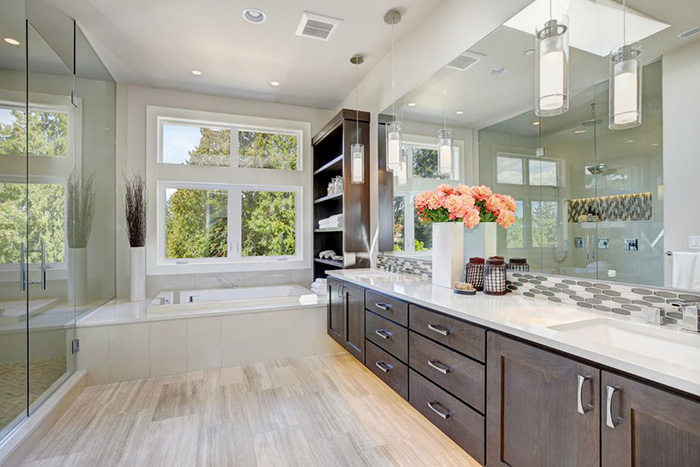 Bathrooms can be more than just a necessity for any household, as modern designs offer homeowners the ability to transform this vital room into a functional and stylish work of art that dazzles every time you enter. The bathroom in your home should be your own private escape and is typically used frequently on a daily basis in order to maintain sanitation. However, a modern bathroom can do much more than simply provide for basic necessities and you'll find a vast array of new design idea from Budget Construction that help you create the perfect atmosphere.

Ideas for Remodeling Your Bathroom
Your bathroom doesn't have to be a mixture of simple tiles and plumbing, but instead it could be a room of relaxing and amazing utility. At the same time, bathrooms see a tremendous amount of use and after 10 or 20 years they can show some significant wear beyond just simple repairs. Bathroom styles can also become terribly outdated and end up being an eyesore in home. The good news is there's no better time to remodel your bathroom to bring it up to date, increase its functionality and create a pleasant atmosphere every time you use it.
The following are some points to consider when remodeling your bathroom:
Your bathroom lighting is extremely important and can determine how bright and vibrant the colors of its interior will appear. It's also vital that you have properly placed lighting around your mirror, as it greatly enhances your visual abilities when maintaining your appearance or shaving. New, modern light fixtures will also add to the style you've chosen for your bathroom.
If you choose to apply tile to the floor or walls in your bathroom then you're in luck, because you'll have an array of options to choose from. You may also consider mixing and matching tile colors. For example, a darker tile color on the bottom half of the walls and a lighter style for the upper half.
Your vanity and its style can go a long way towards complimenting your bathroom's color scheme. If you choose a darker colored vanity then using fixtures with a bronze finish would match nicely as an accent to it. With a white or lighter colored vanity you can choose to have stylish stainless steel fixtures to provide a clean, sleek appearance.
Your bathroom should be a relaxing environment in your home as well as an easy location to prepare for your day and easily access all your sanitation amenities. Being able to enjoy a perfect shower and see yourself in a clear reflection in your mirror without fog can go a long way to starting off your day right.
Give Budget Construction a call at 1-844-969-2448 and see how we can deliver quality at the most affordable rates.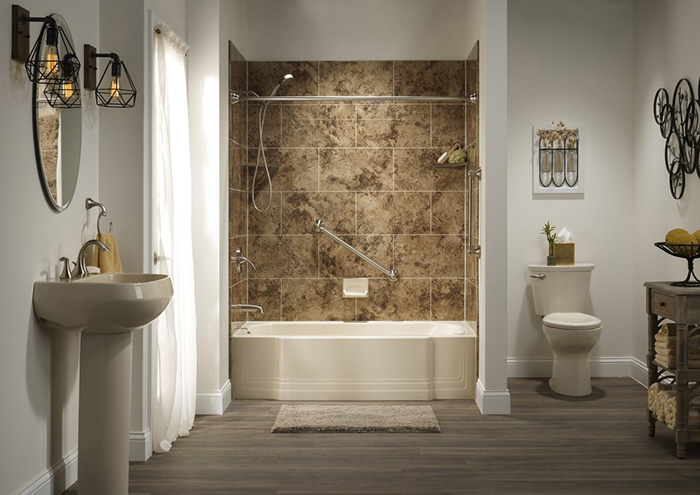 Bathroom Details That Can Make a Big Difference
When homeowners are remodeling their bathroom they tend to focus on the larger design choices. Things like tile color, vanity style, fixtures and the type of shower or tub combo they would like to install are all main points to consider. However, there are some smaller details that can go a long way towards completing your bathroom in order to make it the most unique and special bathroom for your needs.
If you have the extra budget then the following options may help improve your bathroom remodeling project:
Heated Flooring: This luxury option is available for most bathroom flooring types and will keep your floors warm underneath your feet in the morning. They also help moist floors dry more quickly, which can help reduce the chances of slipping and falling.
Skylights: Bathrooms typically have smaller windows or even no windows at all, which means you have to use more artificial light to create a well-lit atmosphere. If you have the option, adding a skylight can help let in natural light and reduce the need for using as many lights during the day. Plus, it adds an appealing aesthetic feature.
Heated Bathroom Mirrors: No one likes to get out of the shower only to have to wipe off their mirrors in order to see themselves. When after wiping them, the condensation on the mirror can leave streaks and smudges, obscuring your reflection. Adding a heated bathroom mirror will solve these problems by keeping your mirror from fogging up while you're in the shower and when you get out you'll have a clear reflection.
Mirror Frame: Many older style bathrooms have a simple mirror pane fixed to the wall. This pane may span the width of your vanity or it may even be wall to wall. However, more modern bathrooms have switched to stylish framed mirrors that complement the aesthetic appeal of the rest of your bathroom.
Stain-Resistant Grout: Between your bathroom tiles is what is called grout, and regular grout has a habit of collecting grime and stains over time, especially if you have tiles in your shower exposed to soap and water every day. Stain-resistant grout can prevent much of the filth from accumulating, which means less time cleaning.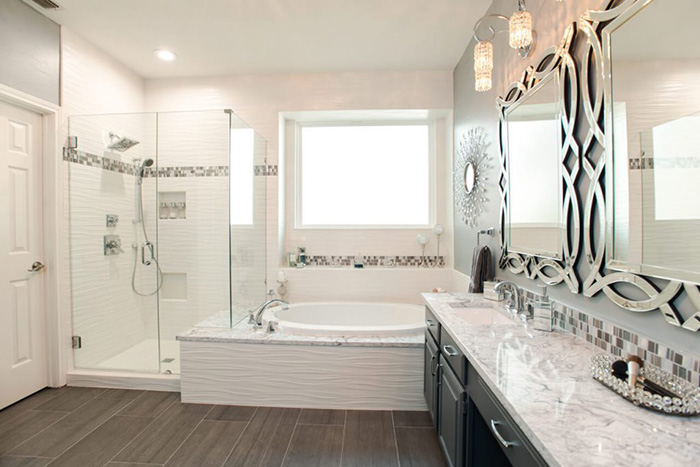 Experience the Quality Difference With Budget Construction
There are many companies offering bathroom remodeling services, but only Budget Construction can deliver top-tier quality while offering the most affordable prices. If you're planning on staying in your home for many years to come, or even if you think you may sell it someday, deciding to have your bathroom remodeled can make a world of difference in your everyday life.
You'll experience the A+ quality difference with Budget Construction and we take pride in offering every one of our customers the highest level of services including:
Friendly and caring staff.
Clean, safe and organized job site.
Noticeably detailed finish work.
2 million general liability insurance.
Full workers compensation.
96% on time completion record.
Quality installations guaranteed.
We take our jobs serious and on every project we aim to deliver the highest standard in customer satisfaction. Once you allow Budget Construction to remodel your bathroom you'll be able to enjoy a relaxing experience every time you use it. Whether you're relaxing in your tub at the end of a long day, or busy getting ready for work in the morning, you'll be amazed at the beautiful appearance of your bathroom as well as its easy accessibility and functionality.
Just let our friendly staff know what you envision your perfect bathroom as and we'll get to work helping show you the many modern options available to beautify and upgrade your bathroom. Our company and contractors set ourselves apart from the rest by constructing the highest quality bathrooms that not only look great, but will function smoothly for many years to come.
No matter if you're simply looking for new tile or wallpaper, or if you're completely redoing your bathroom from the ground up, our experienced staff can handle the job. The best part is we can deliver these high-quality results at rates that can fit any homeowner's budget.
Receive the lowest rates on your brand new kitchen by calling Budget Construction at 1-844-969-2448 today.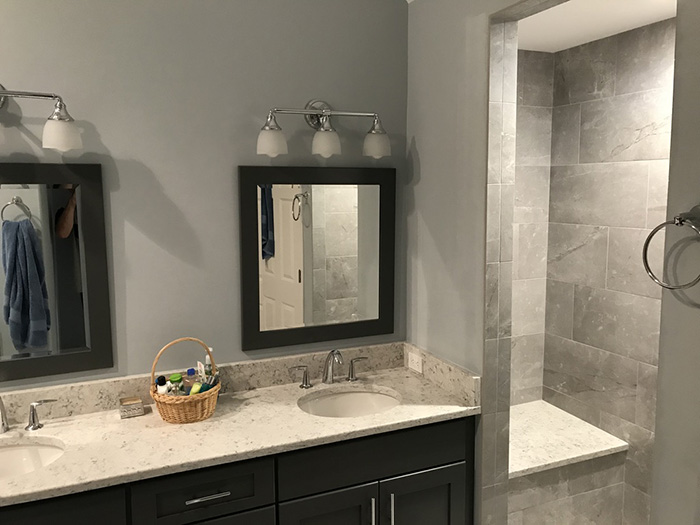 How to Layout & Design Your Bathroom
When completely remodeling a bathroom it can be challenging figuring out exactly where each fixture should be placed to maximize the space you have available. You'll need to figure out where to place the vanity, shower/tub, vanity and any other accessories that you plan on including during the remodeling process.
Because there are a lot of decisions to make during the layout phase we've outlined some helpful tips to consider.
Remember, you'll want to ensure you have enough space to move around and maneuver in and around any fixtures you have installed. You'll want to plan for enough space for people to place their clothing, easily access towels and enough room to adequately dry yourself off after a shower or bath.
Consider how much space you will need for storage of items and towels you'll want to include in the bathroom. You can choose to have a small closet area with a door installed if you'd like to store many materials in the bathroom rather than outside it.
How much counter space will you require? To determine the amount of space, consider how many people will be using the bathroom. If several family members will be using the same bathroom, then it would be wise to have a large vanity and extra storage space around it for their personal items.
Are windows an option for your bathroom and will you want them installed? Natural light can do wonders for brightening up the area during the day, and you'll reduce the need for as much artificial lighting. Think about where you will place the window and make sure to plan the locations of other amenities around that window.
You'll also want to think about which areas of your bathroom floor are likely to get wet and which areas should remain dry. We all know what it's like to walk back into the bathroom after a shower and getting dressed only to get your socks wet. When remodeling a bathroom you have a unique opportunity to plan walkways and position the shower in a location offset from the sink area, which you are likely to use while putting on cloths and getting ready in the morning so the last thing you'll want is wet feet.
For many modern bathrooms the tub is no longer a part of the shower, but instead if someone wants a tub for relaxation it is typically offset from the shower or completely separate. Only including a shower is a good way to save space if you have limited dimensions and don't have use for a tub.
What Will a Bathroom Remodel Cost & How to Budget
Even though your bathroom is likely one of the smallest rooms in your home it is also one of the most important. The last thing you want is a bathroom that hasn't been maintained or updated in many years. Not only will its style be outdated, but the plumbing could be desperate need of preventative maintenance in order to prevent leaks or bursting pipes. Fortunately, your bathroom remodeling project can be very affordable if you simply want to update its appearance and ensure all the fixtures and plumbing is new.
Your bathroom can be designed just about as fantastic as you can imagine with all the most elaborate amenities, or if you're simply looking to update your bathroom's style then the cost can be very affordable for any homeowner. As such, prices can vary greatly depending on your design preferences and added amenities.
The following are some of the main factors in determining the overall cost to remodel your bathroom:
The type and style of shower and/or tub you install.
How large the bathroom is and how many materials will be used in the remodeling.
The style of vanity you choose.
The size and types of tile you install.
Extra amenities such as heated mirrors, heated floors or a skylight.
How many labor hours it will take to complete the job.
In essence, the cost of the job can vary greatly depending on your specifications and the style of materials you choose to install. The good news is that according to Remodeling Magazine's Cost vs. Value report on home renovation projects, homeowners can except to recoup approximately 62% of the cost spent on medium sized bathroom remodels.
Whether you are looking for a completely new bathroom or simply want an upgraded shower and vanity, Budget Construction can get the job done while giving you the absolute lowest rates! Call 1-844-969-2448 for a free quote.