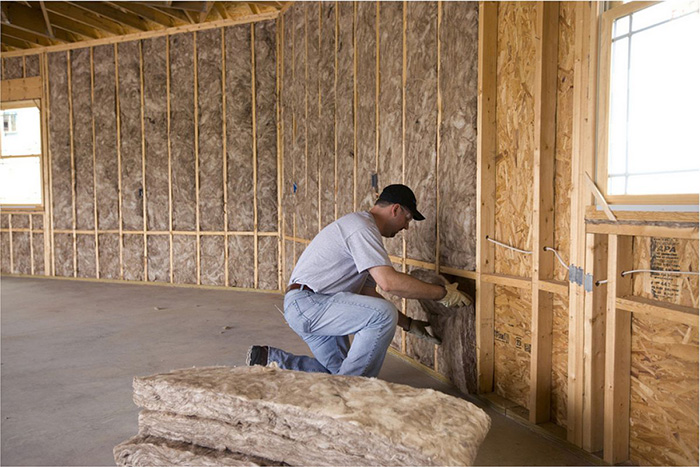 Every homeowner is naturally concerned about energy costs, and they certainly seem to increase steadily as time goes on. It's difficult to predict the future, but we know that our planet's energy sources are limited and prices have risen significantly in the past few decades alone. No homeowner wants to spend more money than they have to on their monthly energy bill, which is why we've come up with new and innovative options to make homes as energy efficient as possible. One way to achieve this is by upgrading your home's insulation to new, more energy efficient insulation materials.

What Are The Most Common Types of Insulation?
If your home wasn't designed and built within the past decade, then chances are it was not designed especially with energy efficiency in mind. Most older homes have less insulation and the insulation they do have is not as energy efficient as the materials used in homes today. However, adding new insulation to your home is a great way to improve energy efficiency, make it easier to maintain steady temperatures and insulate your indoors from the outside noise. Below you'll find the most common insulation materials used in homes.
Fiberglass Batts and Blankets
One of the most widely available and used insulation materials, fiberglass insulation comes in various widths and sizes. The most common size is designed to fit in between the studs and joints of your home to provide insulation. It is coated with paper on one side so it can easily be stapled to the studs on either side. As its name implies, fiberglass insulation is made of very fine strands of glass fibers. These fibers can be itchy and should only be handled when wearing protective gear. Fiberglass insulation will never be damaged by moisture and it is non-flammable in order to better protect your home. It is also available in loose fill to be used around ducts and boards.
Mineral Wool Insulation
Sometimes called rock wool, mineral wool is very similar to fiberglass insulation. It is a man-made material consisting of natural minerals like basalt or diabase, which is a type of dark-colored igneous rock. The best part about this type of insulation is that it's easy to install, can tolerate higher heat levels than other forms of insulation and provides superior sound resistance. It is a more expensive insulation, however, and also must be installed using protective gear in order to avoid slivers or inhaling any of the material.
Cellulose Insulation
For homeowners looking to go green and use a more environmentally friendly, natural form of insulation then cellulose is the ideal option. This is because cellulose insulation is made from recycled materials such as recycled paper products. The recycled paper is cut into very small parts and then turned into a fiber, which results in an insulation that can pack very tightly into building spaces. Cellulose insulation is frequently used in the walls and ceilings of both old and newer homes. Cellulose insulation is treated with special chemicals so it will better protect your home against heat, pets and moisture. It should be noted, however, that cellulose insulation is more expensive than other options, but it provides a viable alternative to synthetic materials if you are looking to keep your home as natural as possible. In addition, this type of insulation is likely to produce a certain amount of dust. This is why it's important to have a vapor barrier installed when using cellulose insulation in your home.
Foam Insulation
Foam insulation is installed with the use of spraying tools that allows it to fit into many spaces of your home that traditional insulation does not work well in. It is transported in special containers to specific locations of your home and then sprayed into areas where it is needed. It is used in new wall spaces and existing walls as well as in attics. Even though the foam is sprayed it can still be used in large spaces between studs or boards. The installation process can be messy and requires special protective gear. It should also be noted that foam insulation in large quantities will cost more than alternative insulation materials such as fiberglass. It is also a more time consuming process, requiring more labor hours to ensure the foam is evenly sprayed across its intended areas.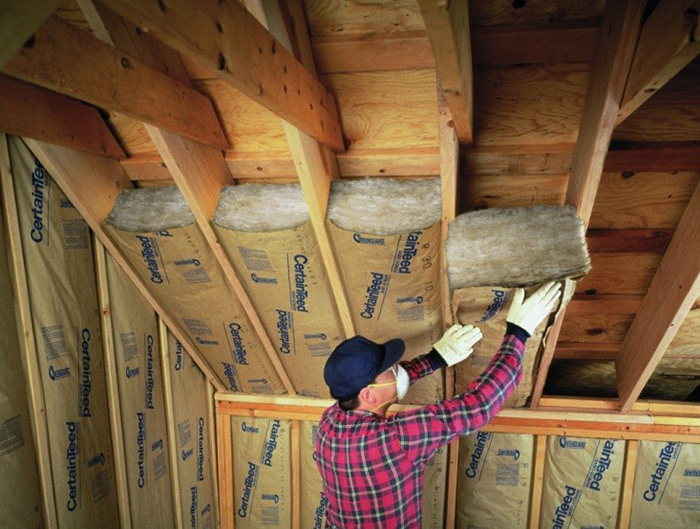 Where Are the Best Locations to Install New Insulation?
Ideally it's important to upgrade your entire home with newer insulation in order to maximize energy efficiency, but if that isn't possible then you can always focus on specific locations where installing insulation can still make a significant difference. To make it easier for you to plan out your new insulation plans we've outlined the most common areas to focus on first.
Attic Insulation
Starting in your home's attic is a good choice to start installing new insulation. This is because it's easier to access and install insulation because the areas between the frame's studs are already open without drywall over them, unless you have a finished attic. New insulation can be laid and attached in between the studs in a very cost-effective manner. Insulating the floor of your attic will help you keep climate controlled air within your living space, instead of it escaping into the attic or air from the outside seeping in. If you plan on finishing your attic or want to better protect it from the outside elements, then you can also choose to have the ceiling insulated. Sprayed foam insulation works well on attic ceilings because it will mold into the rafters and has a high efficiency rating.
Basements and Crawl Spaces
Hot air rises so it's important to have the upper areas of your home properly insulated, but you may also be losing energy-efficiency in other directions. In fact, up to 30% of energy loss can occur towards the bottom of your home. A good option to prevent this loss is to insulate the base floor of your home that acts as a ceiling for the basement. It's also a good idea to insulate any crawl spaces located throughout your home. Floor insulation is the most common for the base level of your home, but if you plan on converting your basement into a usable living space then insulation would be the first step. It will also take less labor hours to install basement insulation, so along with the attic it's a good place to start increasing your home's energy-efficiency. If you want a finished basement, then you can have a frame installed in your basement with fiberglass insulation placed in between the studs. It will also take less material to insulate a basement than it would an entire home, so it's a good option if you're just starting out and working on a budget.
Main Walls and Floors
Many homeowners may be unaware that it is much easier and less invasive to install new insulation into walls or floors where insulation doesn't exist, even if those walls and floors already have drywall over them. The process is completed by contractors drilling small holes in the wall and using a tool to spray insulation into the space between the walls and frame. This way you can easily fill spaces that have no insulation with new, high quality insulation that will have a tremendous impact on your energy-efficiency. The space can be filled with fiberglass, cellulose, rock wool or polyurethane foam so you have ample options available to you. However, if your walls already have old insulation in between them, then there is little choice but for contractors to tear down the drywall and replace it afterwards. A good time to upgrade your home's outer insulation is if you want to replace the home's outer siding, this way the contractors already have a way to access the outer wall insulation.
Are you ready to increase your energy efficiency and have brand new insulation installed? Simply call Budget Construction at 1-844-969-2448 to get a free quote.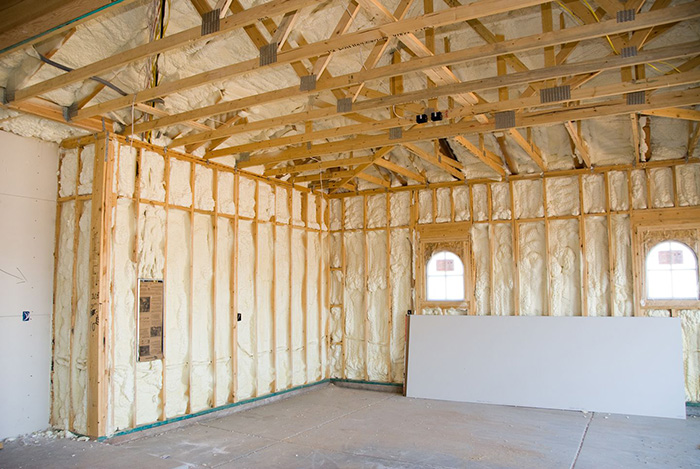 How Much Does New Insulation Cost?
There's no reason to use more energy than is needed to maintain a comfortable temperature in your home, especially during hotter or colder months of the year. If your home was built prior to 1980, then chances are your insulation is well behind modern energy-efficiency standards. Bringing your entire home up to date with new insulation can reduce your heating and cooling costs from anywhere between 10% and 50% each year.
The primary factor in the cost of your new insulation project is the type of insulation material you choose. By far the cheapest and most common material is fiberglass insulation, which is the typical pink or yellowish fluffy material you see in many attics or basements. If you want a more natural option then cellulose insulation is made from recycled paper materials so it is entirely environmentally friendly. Foam insulation works extremely well and has a high efficiency rating, but it's among the most expensive options for insulating a home.
The other factor that will impact the cost of new insulation is the amount of material needed to insulate the space you have chosen. Upgrading the insulation in an entire home will obviously cost more than if you were to just insulate an attic or basement. Also, how much labor it takes to access the areas where insulation is needed will also be a factor. For example, if contractors need to tear down walls then that will add labor and time to the project.
Budget Construction Can Install Insulation at the Best Rates
Insulation is your home's primary defense against the outside elements and temperature fluctuations. Not only does it play a role in your day to day comfort, but it has a tremendous impact on how energy-efficient your home is. Older insulation does not conform to the newer standards, which means replacing it can provide you with considerable savings. How much savings you can enjoy will depend on the climate in your location, the type of heating/cooling system you have and the type of insulation you install.
Budget Construction offers the best rates on new insulation installations and we take pride in maintaining our customer first focus. In addition we can offer on every job the following:
Friendly and caring staff.
Clean, safe and organized job site.
Noticeably detailed finish work.
2 million general liability insurance.
Full workers compensation.
96% on time completion record.
Quality installations guaranteed.
Our contractors at Budget Construction will send our contractors out to perform an energy audit of your home and we can offer you the best options to improve efficiency with newer insulation. We will then review all the best options for your home based on your budget and the type of insulation that would be the best fit. Once we determine which areas of your home can be made more efficient, we'll give you a free quote and estimate for the entire job, from start to finish.
From removing old insulation to adding new more efficient materials, our contractors have the experience and professionalism to get the job done right. You will receive the highest quality of service and satisfaction with Budget Construction.
Get started today by calling our friendly staff at 1-844-969-2448 and we will help you maximize your home's energy-efficiency.