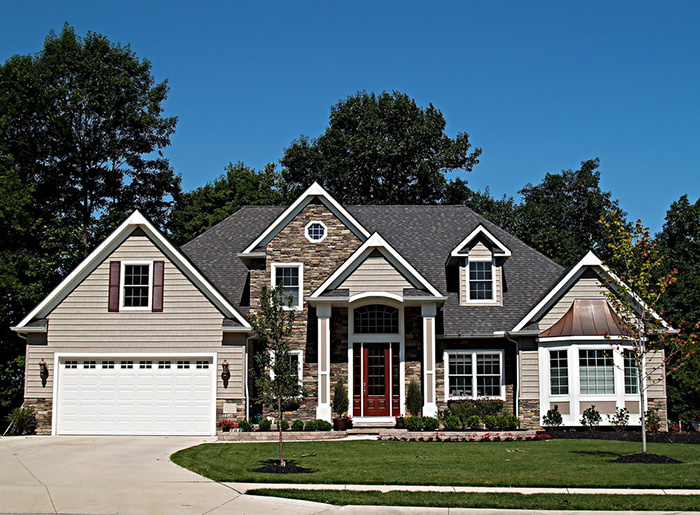 Renovating your home can be a rewarding and fun experience that pays off in a big way in the long run. However, there are so many options and paths available when renovating the exterior of your home it can easily become overwhelming to decide which ones are best for your home. That's why we at Budget Construction have created this handy guide that will give you tips and ideas for exterior home renovations. These renovations will beautify your home, add to your lifestyle and greatly increase the resale value of your home.

What Are Some Ideas for Renovating My Home?
There are so many fantastic ideas when it comes to remodeling exterior portions of your home that at first it can see a bit overwhelming. Thankfully, every exterior renovation you perform will not only give you more enjoyment out of your home, but will consistently add resale value.
Whether you're trying to sell your house or you're just looking to spruce up your home, doing exterior home renovations is just as important as the work you put into your home's interior. If you want to know where to begin your renovations, then do a walk around your entire house and look carefully at each side of it. Could you use a deck or patio in the backyard? Perhaps the siding is getting old and worn, bringing down the natural beauty of the entire house. Or maybe it's the yard that could use some improvements. No matter what the case may be, Budget Construction can help you get the job done while staying within your planned expenditures.
New Siding for Your Home
One of the most obvious places to start your exterior renovations would be the siding on your home. If your siding is aging, getting worn out or if the paint is starting to fade or chip, then renovating your home's siding can greatly enhance your home's beauty and make it look brand new. Not only that, but new siding has a fantastic return on investment rating with an average of 92% ROI if you ever intend on reselling your home. Depending on the type of siding you choose for your home, you could completely change its color and have it looking vibrant again. Or, you could upgrade your old siding and even by keeping the new color it will make your home look fresh and like it was just built recently. Even if you don't need new siding, repainting the exterior of your home can be just as effective in improving its beauty.
Install a Walkway or Patio
There are many ideas for improving the general utility and appearance of your home that start in the front or back yards. For example, consider adding a patio to your back porch to have somewhere to relax outdoors in style. Patios not only look great, but provide a unique lifestyle boost and add value to a home. If you want to beautify the yard, then you could always consider adding a walkway. You can choose from some beautiful stone, tile or colored cement options to create a stunning walkway to key locations in your yard, such as a pool or garden.
Update Your Front Door
Your home's front door is often the first focal point that a visitor sees when approaching your home or looking at it from the sidewalk. A brand new door will not only function more efficiently, but it will greatly improve your home's curb appeal. There are some beautifully designed door styles to choose from including wood and fiberglass. Nothing delivers more classic style and natural beauty to your home's exterior than a natural wood door. If you want the appearance of wood, but not the cost, there are other options that can look like real wood but with a lower price range.
Landscaping Projects
Your front or back yard is a great place to start your exterior renovation efforts. There are plenty of budget-friendly ideas to beautify your yard including adding shrubbery surrounding by colored mulch. Or perhaps you could line your walkways with flowers or small trees. You could also add a fountain surrounded by a walkway leading to other yard locations or to one of your doors. Landscaping will not only improve the overall appearance of your property, but will increase its resale value and attract new buyers.
New Windows or Shutters
If your windows are older, then chances are they are not performing as efficiency as they could be. Modern efficiency guidelines have greatly improved and new window manufacturing techniques have allowed windows to be more effective than ever before. Installing new, energy-efficient windows can help you reduce the amount of energy you require for climate control, which in turn reduces your monthly utility bills. Windows can also come in a wide range of color and style options to compliment your home's natural appearance. If your windows are already in good shape, then you could always add exterior shutters to them. These shutters can be just for decoration or they can be functional, but may homeowners simply like the added style and refinement they bring to a home.
There are many more ideas to beautify your home and renovate its exterior, many of which can be very affordable. Call Budget Construction today at 1-844-969-2448 and make your dreams for your home a reality.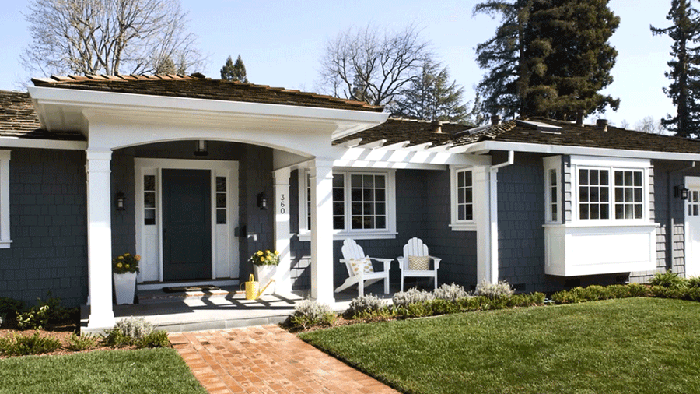 Planning for Exterior Home Renovations
Before you begin remodeling the outside areas of your home you'll want to have a clear vision and goals set for what you hope to accomplish. There are many options for remodeling your home's exterior and it can be tempting to jump right in and get them completed, but if you're working on a budget like most homeowners are you'll want to prioritize first.
The following are some helpful tips to help you succeed in planning the perfect home renovation:
Update Your Home's Appearance: If you intend your remodeling efforts to be purely cosmetic then you can narrows down the number of tasks to be undertaken. For example, perhaps you'd prefer to repaint your home rather than replacing the siding altogether. You can also focus your efforts on landscaping projects or perhaps replacing your home's front door with a new one.
Repair or Maintenance: Do you need to replace certain portions of your home that are becoming worn out or outdated? Or perhaps you'd like to take measures to prevent damage from occurring due to a breakdown. Then you may want to think about renovations that will keep your house in good working order like putting on a new roof or replacing old windows with newer, more efficient models.
Expanded Space: Perhaps your family is expanding since you moved into your home and you'd like some extra space, but without going with a full addition. Some exterior ideas included putting in a patio, which can either be enclosed or open. An enclosed patio can act as a sunroom or be an extended living space. An open air patio will provide an area to grill or relax outdoors and enjoy the view.
Improve Energy-Efficiency: If your home still has the same windows it was originally built with and is a few decades old or more, then it may be a good idea to upgrade them to more efficient models. Windows can make a great deal of difference into the overall efficiency of your home. Over time, the seals around your older windows can break down and your windows will no longer function properly. Newer windows will reduce energy loss and help you cut down on heating and cooling costs.
Increase Home Market Value: If you think you may sell your home at any time in the future then performing exterior renovations to bring your home up to date can have a very positive impact on your sale price. The renovations you perform will also improve your satisfaction in your home while you do live there, which makes exterior renovations a wise choice for both your lifestyle and investment.
Regardless of what you objective is in renovating your home it's important to have clear goals defined and know exactly what you hope to accomplish. This will ensure that you focus on renovating the portions of your home that are most important to you and your vision.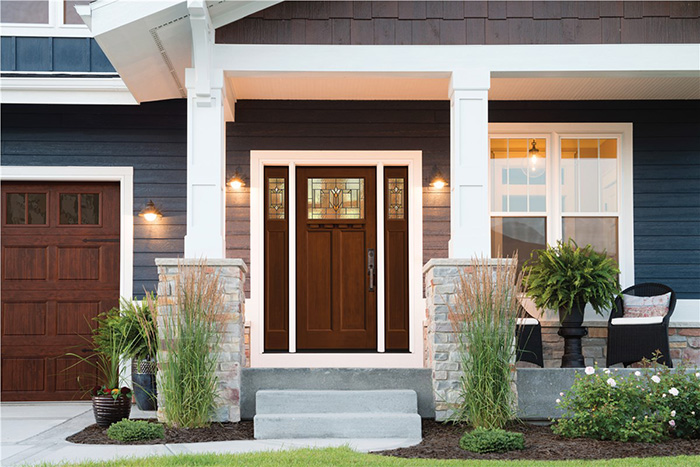 How Much Will an Exterior Remodeling Job Cost?
The options for remodeling the exterior of a home are vast, which means no matter what kind of budget you're working with there is a viable solution for improving your home's exterior and enhancing its value. The job can be as small as having a new door installed or some landscaping work performed on your yard. On the other hand, you could choose to perform a complete home makeover by replacing the siding or painting. If you're concerned about energy efficiency, then replacing older doors and windows with newer models will help you immensely.
Because there are so many remodeling options that vary greatly in scope, here are some of the primary factors that will determine the cost of your project:
Materials Required: The type and quantity of materials involved in the exterior remodeling project will have a big impact on price. For example, if you are replacing the siding on your home then naturally that will require a large quantity of materials, depending on the size of your home of course. The type of materials also factors into price, such as choosing wood siding over vinyl.
Labor Hours: The amount of time it takes to complete the exterior remodeling project is the second factor in cost. Smaller jobs, such as placing some shrubs and colored mulch in the front yard, won't cost as much as a job that requires more labor hours such as installing a new patio.
You can get a general idea of the cost of your project based on these factors. It's important to know that you can always start small and work your way up to larger home exterior remodeling projects. Each remodel that you have done will not only enhance your lifestyle, but it is also an investment in the future of your home.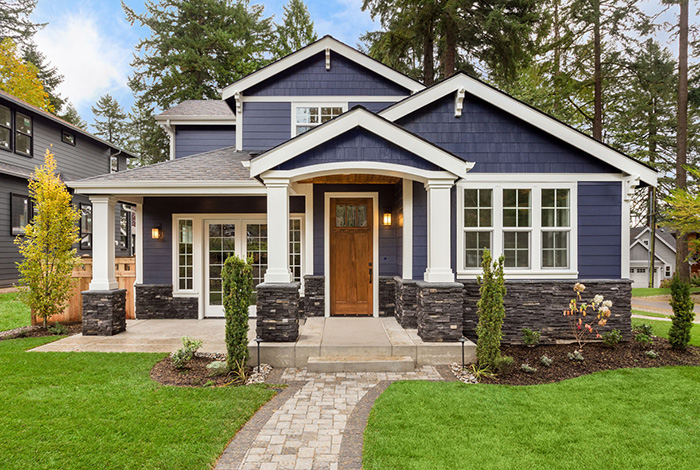 Choose Budget Construction for High Quality Remodeling Work
Our experienced contractors at Budget Construction have performed thousands of remodeling jobs for customers all over the state. Each time we pledge to deliver the highest degree of excellence, professionalism and timely job completions. Many contractors can make those claims, but Budget Construction stands by them on every remodeling project we accept. We pride ourselves on having a long history of satisfied customers who have enjoyed our work and the low prices we offer.
In addition to high-quality work completed at budget prices we pledge to always provide our customers with the following:
Friendly and caring staff.
Clean, safe and organized job site.
Noticeably detailed finish work.
2 million general liability insurance.
Full workers compensation.
96% on time completion record.
Quality installations guaranteed.
We understand that your home is important to your and we treat it with upmost respect, care and attention to detail. Have you always wanted a decorative, stylish patio to relax on? Or perhaps you'd like to turn your backyard into a work of art with paved walkways and gardens full of flowers? Whatever your dream is we can help you make it a reality. Our staff can help you through the planning and design process so you know exactly how your project will turn out.
Budget Construction is here to help you every step of the way, and when you call 1-844-969-2448 we can give you a free estimate as well as assistance planning your next remodeling project.