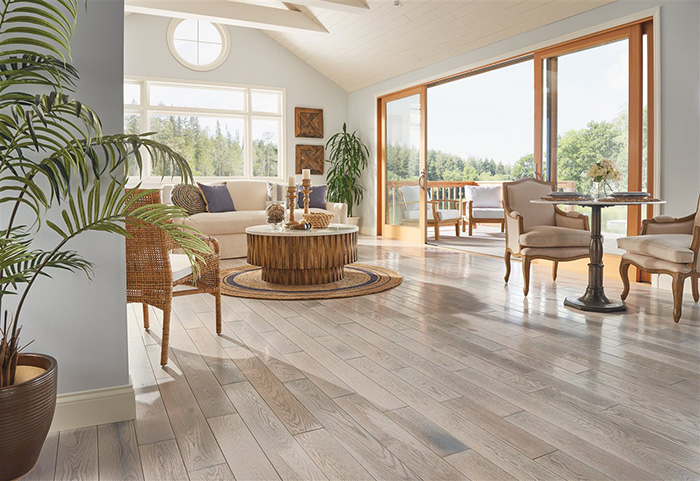 Your home's flooring is an extremely important aspect of your day to day lifestyle, but often it is overlooked over the years. Floors go through an astounding amount of punishment from constantly being walked on, which adds up to many thousands of footsteps over the years. Over this time portions of the floor can become very worn and even start to warp. Besides the benefit of increased functionality, new flooring can greatly enhance the beauty of your home along with its resale value.

What Are My Options For Flooring?
Flooring materials have come a long way since the days where the primary flooring materials were wood or tile. Now, you have a whole range of options, made up of both synthetic and natural materials. Various types of flooring have specific benefit, so you're sure to find the perfect fit for your home and lifestyle. No matter what type of budget you're working with there will be a fantastic flooring solution for your home. The following are some of the most popular flooring materials available today.
Hardwood
Many homeowners prefer hardwood flooring due to its beauty and ability to be stained and colored in a wide range of options. In addition, hardwood can last a very long time and it can also be refinished as needed or desired. If you utilize a polyurethane finish then you can utilize hardwood flooring in kitchens and areas that have high moisture levels. However, that doesn't mean that your hardwood will be immune to water damage, so you should also make sure you minimize any spills. Wood flooring is available in many different sizing options such as planks, squares and strips. Unfinished wood flooring gives you a wealth of staining options, or you can choose to have the flooring stained to a color of your preference.
Ceramic Tile
If you are looking for a durable, long-lasting and low-maintenance flooring solution then ceramic type flooring would be a suitable option. This is why ceramic tile is often used in areas that are high traffic and prone to heavy moisture such as bathrooms, entryways and kitchens. Ceramic tiles hold up extremely well over the years and are very easy to clean or maintain. Another benefit of ceramic tile is its ability to come in a wide range of styles, colors and shapes. You can create some truly fantastic tile arrangements in square or diamond patterns with alternating colors if you wish. Tile can come in various categories such as glazes, paver and quarry style tiles.
Stone Tiles
Stone tiles are often used in stairways leading up to a home's door, on patios and as walkways around the yard. These types of tiles are quarried from various types of stone and then shaped into square tile patterns. There are different types of stone you can choose, such as granite which is very hard, durable and practically indestructible by common every day use. This is why many homeowners prefer stone for their outdoor applications such as patios, garden borders, pool borders or for creating pathways. They are highly resistant to the weather and could very well outlast your home itself.
For natural stone tile there can be some imperfections, as they are not perfectly smooth. You can, however, have worked stone tiles that have been smoothed and shined, which is often done with granite tile. Marble is another stone tile option, although it is a more expensive option it can look absolutely fantastic in any home. Marble is typically highly polished to produce a smooth and shiny surface. Stone tile can remain cool to the touch even in warm weather, which can be good for areas surrounding a pool in the summer, but you may want to avoid it with your bare feet during cooler temperatures.
Vinyl Flooring
Vinyl is one of the most affordable flooring options. It is also easy to work with and install on top of existing flooring in your home. Sheet vinyl can be applied on top of flooring that is worn out or old, which means you can save considerably on labor hours. Many homeowners like vinyl flooring because it comes in a variety of different colors and styles. For example, vinyl flooring can be made to have the appearance of real stained wood, tiles or other types of designs. Vinyl flooring is often used in kitchens and bathrooms because it is resistant to moisture and very easy to clean with a mop or cloth.
The options for design when dealing with vinyl flooring are nearly endless. If you're looking for a flooring option that is quick and easy for contractors to install, has a wide array of style options, is resistant to stains and water and last a very long time then vinyl may just be the perfect solution.
Carpet
If you want warmth underneath your feet and a soft feel, then carpet is a great alternative to hard solid flooring. Carpet can come in various styles, colors and thicknesses. It is often used in bedrooms where you expect to be barefoot at times and carpet will feel very soft and warm, especially if you live in cooler climates. It is also used in living rooms and lounging rooms. Sometimes you see a strip of carpeting on stairways to provide style and a better grip when walking on the stairs. Carpet flooring is also great at reducing noise, which is another reason they are used on stairways so you don't constantly hear the sounds of people going up and down. However, carpets are harder to clean and will stain if you spill certain liquids on them. The best solution is to rent a carpet cleaner, but that can be time consuming and require you to move around your furniture.
For the best flooring solutions at the absolute lowest prices call Budget Construction at 1-844-969-2448 and let us take care of all your remodeling needs.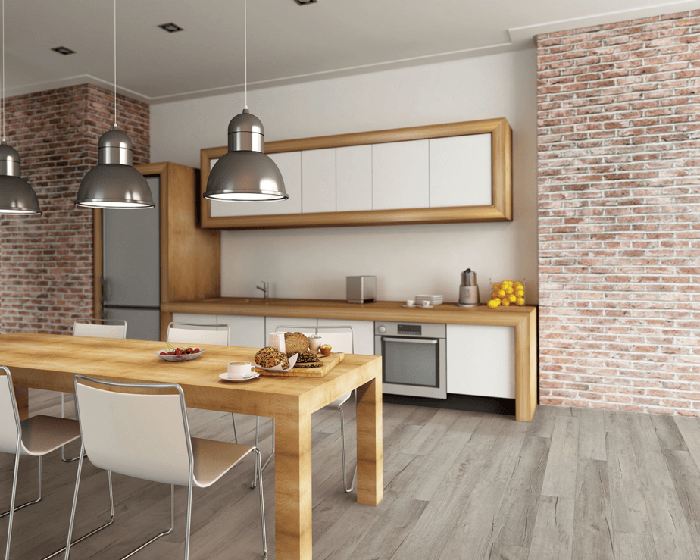 Choosing The Best Flooring For Your home
Regardless of the flooring you ultimately decide on it should have certain qualities that match your home and lifestyle. It should also be functional, practical and look appealing. There are plenty of beautiful options available that can fit nicely into a wide range of home budgets.
Consider the following points when deciding which type of flooring is best for your home:
Durability: No matter how nice a floor may look in your home you'll want to ensure it will be practical for the daily amount of use you expect. You'll also want it to last for a reasonable amount of time, as no one wants to keep replacing their flooring due to wear and tear. If you have heavy foot traffic inside the home or pets, then consider a ceramic, tile or laminate to reduce the chances of marks and scuffs.
Easy Maintenance: Will your flooring be easy to maintain and clean? Do you want a flooring that you can easily mop or wipe with a cloth to clean up spills? Then you may want to avoid carpeting and go with materials that are easy to clean such as vinyl, tile or laminate. These materials are simple to maintain and you can keep them looking beautiful over many years.
Longevity: Above all your flooring should withstand the test of time and daily use that you plan on putting it through. Eventually all materials will show signs of wear, but you can maximize its potential by choosing the right flooring for your lifestyle. Some of the longest lasting flooring materials are stone, ceramic tiles, concrete and finished hardwood.
Resistance to Moisture: Especially if you live in a humid or wet climate, moisture resistance is going to be a consideration you'll want to give careful thought to. For example, tracking water inside the home can eventually lead to your flooring picking up moisture and warping, depending on the material it's made out of. This is particularly important to note if you choose wood flooring, although you can use certain sealing materials to help prevent issues. Tile, vinyl and some laminate types of flooring are good at resisting moisture.
Allergen Buildup: If you or your family are susceptible to allergies, particularly during the high allergy seasons, then you may want to think about staying away from carpet flooring. Also, if your allergies act up from pet hair and dander and you have pets, then you may also want to consider alternative flooring materials such as vinyl, hardwood or ceramic tiles.
These are the main considerations you'll want to take into account when choosing which type of flooring material is best suited for your home. Also take into account your general lifestyle. For instance, if you have pets that may scratch your floor at times then you'll want a sturdy and durable material like tile or vinyl.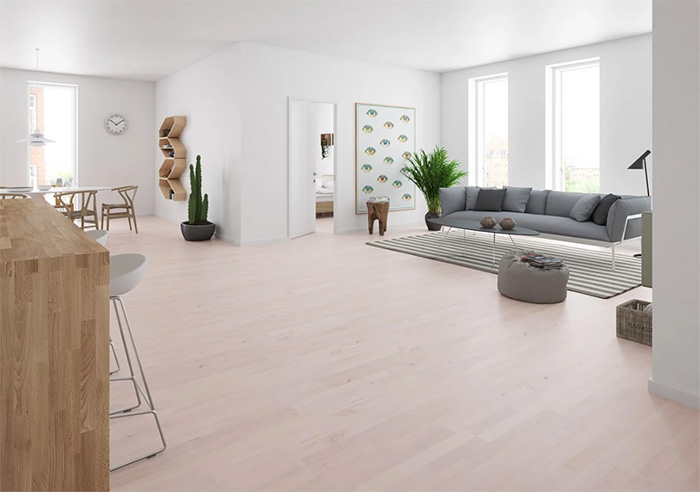 How Much Will New Flooring Cost?
New flooring is a great way to vastly improve the appearance and functionality of your home. It is also a wise decision if you are seeking to increase the value of your home and still have older flooring installed from when the home was originally built.
The cost of your flooring will depend on several factors. First, the type of material you want your floor to be made out of. Hardwood flooring is one of the more pricey options, but it's often worth the extra price tag for the beauty and stunning appearance it brings to your home. It also lasts a very long time and comes with an array of finish and staining options. Marble or stone tiles will also be on the more expensive end of the spectrum, but again it's entirely up your tastes and budget.
On the less expensive end we have vinyl and ceramic tile flooring options. Vinyl can be quickly and easily installed, comes in a range of styles and is a very practical solution. It lasts a very long time and is easy to clean, which makes it a preferred option for kitchens and bathrooms. Tile flooring can also fit nicely into your budget.
The other main factor in price is square footage. In other words, how much flooring will be requires to cover the space you want the new flooring installed on. The quantity of material needed and the amount of hours required to install the flooring are also factors in cost. Ultimately, there are a wide range of flooring options suitable for any homeowner's budget, and you can Budget Construction can help you achieve your goals without spending an arm and a leg.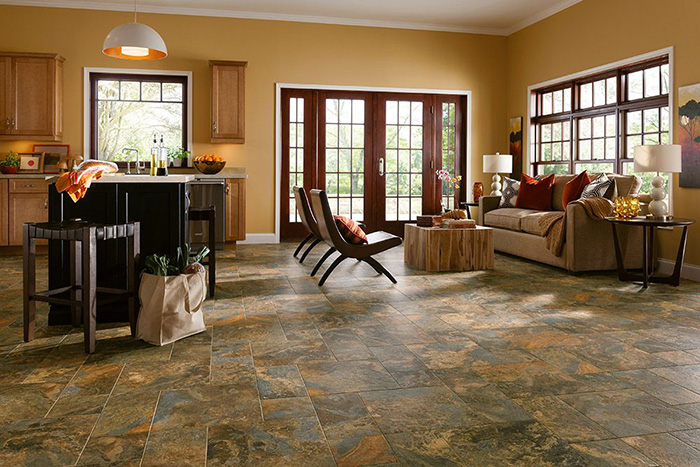 Why Budget Construction is a Step Above The Rest
When you choose Budget Construction to install your new flooring you will not only receive expert contracting services, but you'll also have a partner to help you receive high-quality flooring at affordable prices. We've helped thousands of homeowners remodel their homes with beautiful flooring and we can help you find the perfect option that not only looks great, but will fit within your budget as well.
Budget Construction pledges to deliver the highest quality of work and service. When you partner you'll receive all the benefits of our experience including:
Friendly and caring staff.
Clean, safe and organized job site.
Noticeably detailed finish work.
2 million general liability insurance.
Full workers compensation.
96% on time completion record.
Quality installations guaranteed.
It can be both exciting and rewarding when you remodel portions of your home, but especially when it comes to flooring. This remodeling job will convert a large area of your home into a beautiful new style that will last as long as you live in your home. We have sourced the best prices on flooring from our suppliers and can guarantee its quality. Few contractors can make this claim, but we back it up and will provide expert services with every job you hire us for.
Are you ready to have the beautiful flooring you've always wanted in your home? Budget Construction can help you make your dream a reality, give us a call at 1-844-969-2448 for a free quote.