Your driveway not only serves an important function as providing a secure parking area, but it's also greatly contributes to your home's curb appeal and overall beauty. A concrete driveway can last an extremely long measure of time as long as it's well maintained, but too often we overlook small cracks. Those cracks may start out small, but over the years they continue to widen until they compromise your entire driveway and it is no longer level with its surroundings. Keeping up on driveway repairs or installing a brand new long-lasting driveway can go a long ways towards improving your property value and your home's curb appeal.
A new concrete driveway will be low maintenance and provide superior functionality for several decades. The driveways we install will not only make a dramatic difference in your lifestyle, but will enhance your home's landscape and value as well.
If your driveway has cracks or is getting old then consider replacing it with new high-quality materials. Whether you need a replacement or a brand new driveway our team at Budget Construction will assist you in making your dream a reality. Call 1-844-969-2448 for a free quote on your driveway or walkway installation.

Which Type of Driveway is Best For My Home?
When most people think of driveways they imagine a flat slab of concrete that leads onto a home's property and perhaps leads into a garage or car port. However, depending on the layout and landscaping of your property there may be several different styles of driveway that could look even better and provide more functionality. The following are some of the most popular styles of driveways that Budget Construction installs for our customers.
Straight Driveway
A straight driveway is ideal for homes that have limited front yard space or a short distance between their home and the street. A straight garage can be as simple as a concrete path leading onto your property with enough length and width to comfortably fit a vehicle or two on it. This allows you to easily park your vehicle closer to your home with the added safety of not leaving it on the street. A straight driveway doesn't have to be made out of simple concrete, but rather it can be constructed with stylish borders, color variations or patterns. If you have a long, straight driveway you can also consider lining the sides with shrubs or trees.
Curved Driveways
For the most part a curved driveway adds more style and character to your property than a standard straight driveway. A curved driveway may not only look better for the specific design of your property, but it may function better as well. If you have a good distance between your home and the sidewalk then a curved driveway can be installed to run from the street to right in front of your home. It can even curve in front of your garage and also in front of your home, giving you the option to either pull your vehicle into the garage, or up to your front door to make it easier to bring items into your house. Curved driveways can also be installed using materials other than standard concrete. You can create an attractive plaza or stone style that always looks great and sets your home apart from the rest. In case your garage doesn't line up in a straight line with the street or there are landscaping obstructions in the way, a curved driveway could offer you much easier access without the added cost of redoing a large portion of your landscape.
Circular Driveways
One of the best advantages of a circular driveway is they offer you exceptional accessibility to your home and garage while eliminating the need to reserve your vehicle. A circular driveway starts at the street and typically runs in a circular direction leading to the front of your home, past a garage and back out to the street. This allows you to easily drive up to either your home or garage and then drive forwards to exit to the street again. However, having a circular driveway installed will take up quite a bit of space. This means you must have ample acreage in front of your home in order to have a circular driveway installed. Another benefit of a circular driveway is they do wonders for your property value and you'll certainly get a good return on your investment seeing has how you'll likely use the driveway every single day.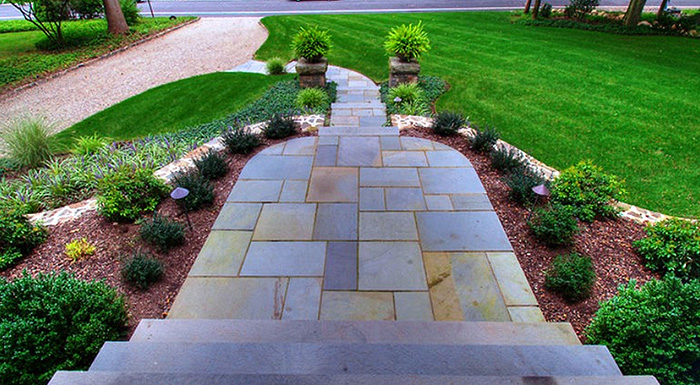 What Are My Options for Paver Stones?
Why settle for plain concrete when you can really set your home apart from the rest and maximize your curb appeal. That's where paver stones come in. A paver driveway will greatly add to the beauty of your property while at the same time increasing your home value. Paver stones allow you to customize your driveway or walkway with some truly amazing designs, practically transforming it into a work of art that you can be proud of.
Paver Stones
The main reason why homeowners choose pavers over regular concrete or asphalt driveways is because pavers can come in a wide range of styles, colors and designs. This offers greater flexibility and choice when it comes to planning exactly how you want your driveway or walkway to appear. Pavers installed by professional contractors will also last a very long time, comparable to the length of time concrete driveways last when maintained. You can also choose to have permeable pavers installed, which means water will drain into the sand-filled joints rather than accumulating on top of your driveway as it would with concrete and solid materials.
There's no question that paver driveways increase the beauty and value of your home. However, as with any project, there are many choices to make when planning to have paver stones installed. These options include the color, style and layout of the pavers. The end goal of your driveway is to provide a beautiful entryway to your home that is both durable and long-lasting enough for constant use from vehicles.
The following are some of the most common types of paver stones you can choose from when building a walkway or driveway.
Brick Pavers
Bricks are made by molding and baking clay into a solid form and shape. They have been used for centuries to build all types of homes and they are still widely employed in building walkways and driveways. A brick paver driveway can still last for decades if properly maintained, but they are also the least strong out of the paver options. Constant exposure to harsh weather can cause bricks to crack or crumble on the edges. However, proper installation can greatly minimize this effect. Bricks are great for walkways as they look fantastic and create a strong, stable walking path.
Concrete Pavers
Concrete can come in many forms, not just the standard flat slabs you see in many driveways. In fact, concrete can be easily molded and shaped into brick-like patterns. This can give your driveway the appearance of being individual bricks, but without costing as much as actual bricks. Concrete pavers can be stylish as well and come in many forms, such as diamond shapes. By using concrete pavers you can also increase the strength of your driveway over a solid slab of concrete, which is beneficial if you have large vehicles that will be driving over them consistently year after year. Concrete pavers are also one of the more economical options when it comes to paver stones.
Cobblestone Pavers
Cobblestone is simply another word for any pavers made of natural quarried stone. They also rank among the most durable options for driveways and walkways, lasting many decades without cracking or breaking. They can look very stylish and create many different appearances. Cobblestones are often employed for small walkways around a garden or patio, but they are also great for entryway steps and driveways. However, even though cobblestones are extremely durable, a driveway constructed with them may not be as smooth as concrete or asphalt. They are very attractive when looking at them and will certainly create a unique beauty and curb appeal. Cobblestone pavers are typically more expensive than alternative paver options.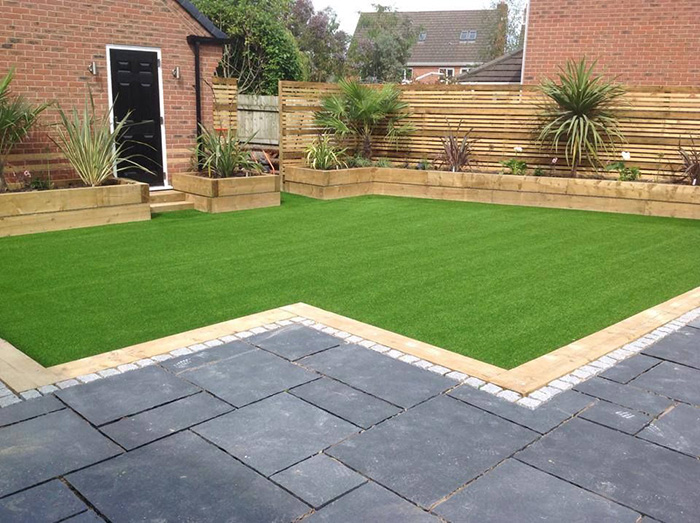 What Are My Options For Walkways?
Walkways around your home are not only a necessity to get from one place to another, but they can also add significant beauty to your surroundings at a relatively low cost. They also come with the opportunity to provide focal points in your yard and emphasis points of interest such as gardens, patios and fountains. Fortunately for homeowners there are a wide range of walkway options to choose from and they are a very affordable option that can add a great view to your property.
Real Stepping Stones
You can choose to have authentic stepping stones installed for a pathway that will give your walkway a natural appearance. Quarried or gathered stones are very strong, durable and will last a very long time.
Brick Walkways
Bricks are not only a solid and affordable option for walkways, but they can be arranged in a variety of different patterns. You don't simply have to have bricks laid side-by-side horizontally. Instead, they can be placed in a basket-weave, stacked bond or zigzag patterns depending on your tastes.
Wood Planks
Properly treated wood planks are a good option for paths leading off your patio to a garden, as wood can give your walkway a truly rustic, natural appeal. They are ideal for short walkways, but wood must be maintained and you may need to ensure that no grass or weeds will spring up in between the cracks.
Stamped Concrete
When most people thing of concrete they imagine a standard grey color, but there are actual many colors and styles to choose from. Stamped concrete has a lot of offer and can come in various colors such as tan, light brown, granite and various others. It can also be textured and stylized to add further beauty.
These are just a sampling of the many fantastic options available for walkways around your home. The artful placement of walkways can enhance your home's natural beauty and add a valuable function in making it easier to get from one place to another.
See just how affordable a new home walkway can be, call Budget Construction at 1-844-969-2448 today for a free estimate!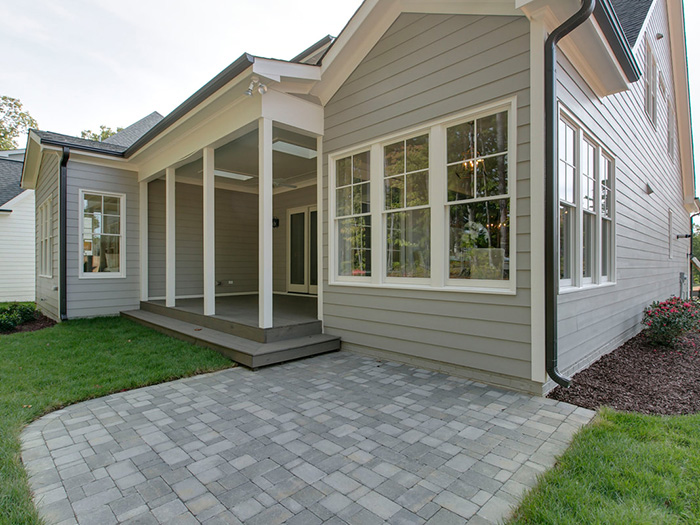 Why Choose Budget Construction for All Your Concrete Jobs?
While there are many contractors offering to put in a new driveway or walkway, only Budget Construction can provide customers with A+ quality while keeping prices low across the board. A new, quality driveway will provide durability, utility and long-lasting curb appeal to your home. Driveways don't just have to be plain old concrete either, but instead you could choose to create a plaza designed with high-quality paving stones that come in a wide range of colors.
We at Budget Construction pride ourselves in delivering the highest level of service on each and every one of our projects. When you hire us to complete a job you can count on:
Extremely detailed finish work.
Friendly, courteous and caring staff.
Clean, safe and organized job site.
100% quality installations guaranteed.
96% on time completion record.
2 million general liability insurance.
Full workers compensation.
Our skillful contractors are experts at enhancing the natural elements of your yard in order to create beautiful driveways and walkways to your specifications. The aesthetic value combined with the added functionality will undoubtedly increase your property value. We can also help you place skillful placements of stones for walkways or for decorative purposes, such as creating a frame for your garden or patio.
Budget Construction can install high-quality paving stones that provide superior beauty to your yard and surroundings. A stone framing around your walkways, porch, home entrance, garden or decorative shrubbery would look fantastic and is very affordable to complete. You may also consider adding a stone patio around your pool to have a nice flat surface to walk on and accent your pool's appearance.
Are you ready to have the driveway or walkway you've always wanted installed at the lowest rates? Then call Budget Construction today for a free estimate, our friendly staff is standing by at 1-844-969-2448 to assist you.