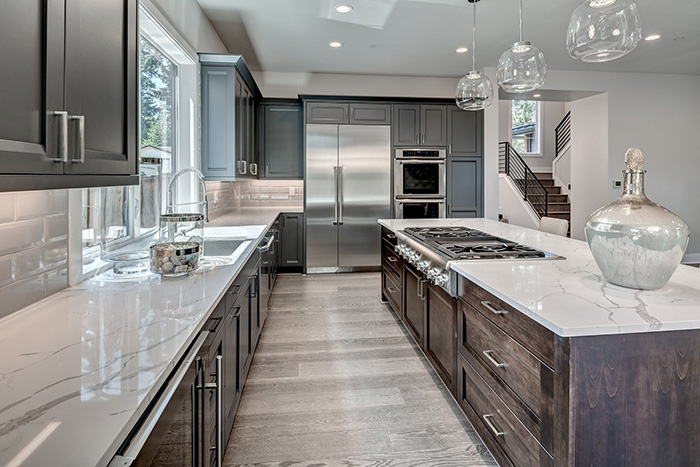 Remodeling your kitchen can be one of the best ways to not only add to your home's interior beauty, but enhance the utility and value of your property. These days a kitchen is not just a place for preparing food in many homes. It also serves as a multi-function area where you can prepare and enjoy a meal, as well as socialize with family or guests. Even if your kitchen is small it can play a major role in the overall interior appearance of your home as well as its functionality.

Tips to Consider When Remodeling Your Kitchen
Remodeling your kitchen is an exciting experience that can be a lot of fun for homeowners, but it also comes with many important decisions to make. For example, if you plan on adding a new, larger model fridge to your kitchen you'll want to not only ensure that there's enough room in the kitchen to place the unit, but you'll need to make sure the kitchen's doorway is large enough to move the fridge through it.
Many homeowners when remodeling their kitchen like the idea of adding an island to increase counter space or provide an alternate location for a stove. An island can definitely add a great amount of utility to your kitchen, but it will also take up more space and you'll have to maneuver around it to get to the sink and cabinets. If you're thinking about adding an island to your kitchen, but are unsure if it would take up too much space, then it's a good idea to place a table temporarily in the center of your kitchen where the island would be. That way you can test it out for a week or so and see exactly what it would be like to have an island before you commit to a decision.
The following are some additional tips to consider when planning your kitchen remodeling project:
Examine your kitchen area: Create a rough draft of your kitchen and write down the measures of walkways, entryways and counters. This will help you determine how much space you will need for appliances and to easily move around the kitchen.
Determine the type of cabinets and drawers you want: You could decide on pull out drawers and sliding shelves depending on space considerations, which is why it's important to have a general idea of space considerations in your current kitchen. You may also decide on a wall oven instead of a standard range, or perhaps you're considering an island. These are the types of choices that will determine how your kitchen remodeling project will turn out, so it's a good idea to decide which options are best suited for your needs.
Decide on the styles of fixtures and lighting for your kitchen: There are many lighting options and just as many styles of fixtures to choose from. It's a good idea to browse through a wide selection of lighting and fixture options prior to the start of your remodeling project. That way you're prepared ahead of time and won't have to make these types of choices once the remodeling work actually begins.
Remember, your kitchen will likely not just be for cooking a few times a day, but rather it is a central hub of activity in your home where your family congregates and enjoy meals if you have an eat-in area. When remodeling your kitchen you'll want to have several factors in mind such as its style, efficiency, functionality and how long it will last. In general, your kitchen's functionality and style should last at least 20 years, or ideally even long. Decide on a layout that fits your style preferences and your family's daily lifestyle habits.
Why wait to get the kitchen of your dreams? Call Budget Construction today at 1-844-969-2448 for a free quote.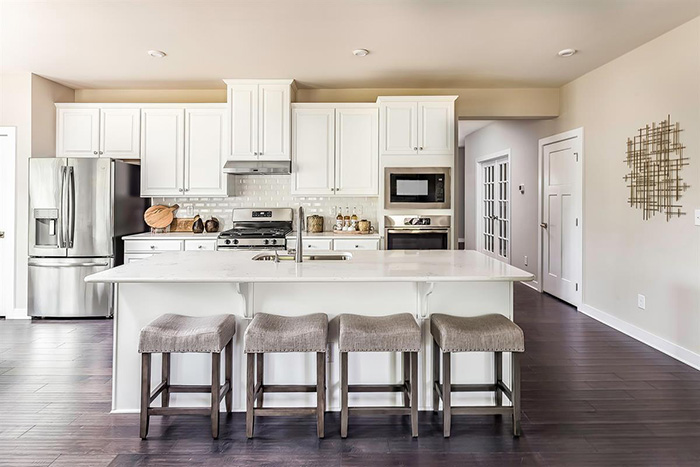 What Are The Main Reasons to Remodel a Kitchen?
If your home is like most then you know that the kitchen often turns into a hub of activity and conversations for both your family and guest. In fact, the kitchen can often be one of the most utilized rooms in your home on a regular basis. A full remodel of your kitchen can be a large undertaking, but well worth it for the benefits you'll enjoy after it's completed. There are many reasons why a homeowner decides to remodel their kitchen, and there even some benefits that you may be unaware of.
Replacing a Worn Out Kitchen
Broken cabinets, missing tiles, damaged countertops and worn out appliances are all good reasons why a homeowner decides to remodel their kitchen. Nothing lasts forever, and oftentimes kitchens undergo a significant amount of use over the years. This can eventually lead to cabinet components no longer functioning properly and countertops becoming damaged. When a kitchen has simply passed its expiration date, then it's time for a fresh remodel.
Update to a Modern Look and Style
Sometimes a kitchen has been in place since a home was a first built, and that could have been 50 years ago or more. After all that time a kitchen will look sorely outdated and will be in desperate need of an update. Remodeling your kitchen can bring it up to date not only with style, but can also allow for the placement of more modern appliances too.
Increase Property Value
The remodeling of any portion of a home can add to its value, but the kitchen is one of the best rooms to grant a significant return on your investment. In fact, according to the National Association of Realtors a homeowner can expect up to a 62% return on their kitchen modeling investment in the form of value added to their home.
Conform to Your Lifestyle
If you've just purchased a new home then the kitchen that worked well for the previous residents may not deliver the same functionality for your family. Maybe your family prefers to gather in the kitchen in the mornings and have somewhere to sit while they eat or enjoy a cup of coffee. In this case, you can opt to have a breakfast car or dining island in your kitchen remodeling plans to better fit your needs. No matter what your specific desires may be, remodeling your kitchen gives you the perfect chance to design it in the style that is just the way you want it.
Energy Conservation
Modern appliances and an efficiently designed kitchen can help you cut down on energy costs and also helps the environment. For example, adding a skylight and newer windows to your kitchen can bring in more natural sunlight, reducing the need for using electricity on artificial lighting. In addition, you could add newer more energy-efficient appliances to your kitchen after the remodeling is completed.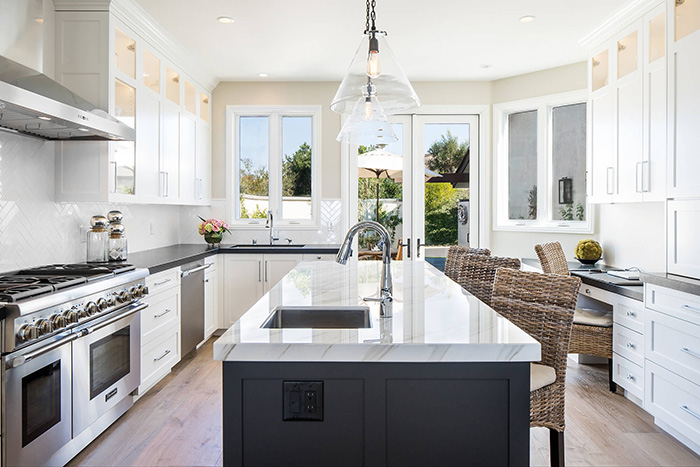 How Much Does a Kitchen Remodel Cost?
Remodeling your kitchen has the potential to invigorate your living space, provide an area for everyone to gather and allow you to properly prepare for the day. Fortunately, remodeling your kitchen doesn't have to break the bank and you have a wealth of options to choose from. For example, you can choose to simply update the cabinets in your kitchen or perhaps add an island or breakfast bar. Conversely, you can choose to completely remodel your entire kitchen so it looks brand new and up to date.
The cost of your kitchen remodeling project depends on a variety of factors and the final price tag can vary. Basically, the bulk of the cost will be determined by the size of your kitchen, the style of the upgrades you choose and extra amenity options. For instance, refitting your kitchen with all new cabinets, fittings, appliances and lighting will cost more than if you are simply upgrading its look and style a bit.
Other factors impacting cost include things like how long the remodeling project will take and whether or not you intend to expand your kitchen space. If you intend to create a larger kitchen then that means it may require work crews to remove walls and redo plumbing arrangements. This will cost more than if you were just to remodel the existing kitchen space you have already.
Whether you are looking for a completely new kitchen or simply want upgraded cabinets, Budget Construction can get the job done while giving you the absolute best rates. Call 1-844-969-2448 for a free quote.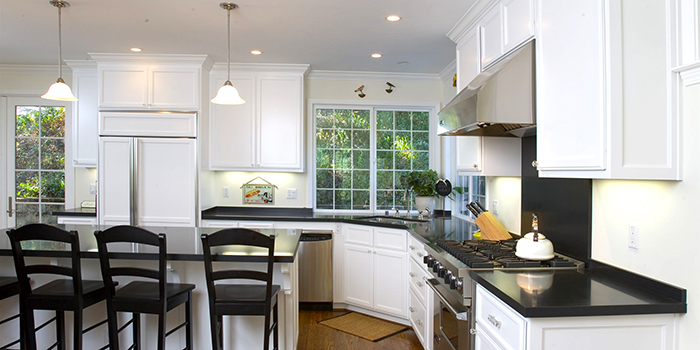 Choose Budget Construction for Your Kitchen Modeling Project
At Budget Construction we can help your build the kitchen of your dreams and increase your home's value by providing quality service at affordable rates.
You'll experience the difference with Budget Construction and we set ourselves apart from the competition by providing:
Friendly and caring staff.
Clean, safe and organized job site.
Noticeably detailed finish work.
2 million general liability insurance.
Full workers compensation.
96% on time completion record.
Quality installations guaranteed.
Budget Construction is one of the most popular choices for homeowners wishing to have a spectacular new kitchen installed. Our team is experienced and able to translate your exact designs into a kitchen that will enhance your lifestyle and create an exceptional living space. Your kitchen will benefit from our many years of experience and our history of exceptional customer service.
Older kitchens often suffer from poor outdated designs that not only look bad, but lack the functionality and energy-efficiency of modern upgrades. An updated kitchen can provide you with a much more up to date layout, which means you'll have an easier time preparing, cooking and enjoying your kitchen to the fullest.
When you choose to remodel your kitchen you can improve your daily lifestyle, expand your living space, deliver superior energy efficiency and provide increased functionality that will last for decades to come.
Receive the lowest rates on your brand new kitchen by calling Budget Construction at 1-844-969-2448 today!