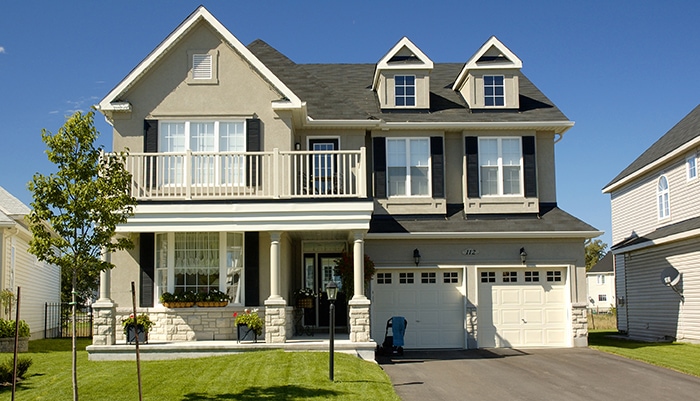 Building a new home is an exciting prospect, but it also comes with wide range of decisions that must be made before construction begins. At Budget Construction we know how important it is for you to have the custom dream home that you've always wanted. That's why we have expert consultants and contractors standing by to help you through every step of the process. We have been building new homes for our customers for many years, and throughout that time we've gained valuable experience that will ensure your home comes out exactly as planned. From architectural designs to exterior appearance, your home can be customized to your specifications and we can help you make your dream home a reality.
When you are on your way to owning a new home that you built from the ground up you'll get to see your dream come together, from the foundation to the frame you participate in every step of your home's construction.

How to Plan For Your Custom Home
Before your new home is built you'll want to spend some time in the planning and design phase to ensure it comes out exactly as you envision it. Whether you've been thinking about a new home for years or are just getting started, the following are some helpful steps to help you organize the planning process:
Plan your budget and determine a general price range that you are comfortable with.
Calculate the general time-frame that you're hoping to have your home completed it.
Browse and study potential plots of land where you would like your home to be built.
Start to think about different design options that would appeal to your specific style.
This checklist gives you a general idea of the questions and decisions that you'll be making throughout the new home building process. As you can see, there are some important choices to make before the foundation of your home is even put in, such as finding the perfect plot of land for your home. These decisions that can determine how you will enjoy the following years in your new home, so it's important to take your time and ensure everything turns out just the way you want it to.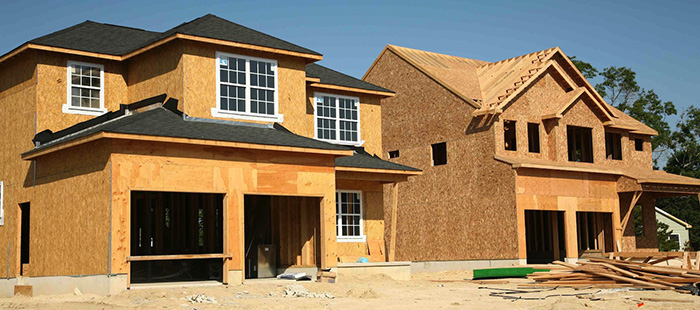 Creating Your New Home's Layout and Design
Once you have the basics of your home decided, such as where it's going to be built, you'll want to begin the layout phase of the design process. Because you are essentially designing a new home from the ground up, this is the perfect opportunity to create the home you've always dreamed of, so it's a good idea to take your time and get it just the way you want. You get to create and choose every aspect of your new home from the countertops to the light fixtures and doors. How many rooms, their placement and all the amenities of your home are entirely up to you.
Below are a few questions and suggestions that will help guide you through designing a new home:
Determine a general idea of how large you would like your home to be.
Will you want a multi-level home or a single-story ranch style?
How many bedrooms will you need?
Where will your main rooms be placed such as the living room, dining room and kitchen?
Be sure to consider your specific lifestyle when designing your home and included layout or design features that match it.
What type of structural features do you want included such as fireplaces, stairways and bay windows.
Decide on the exterior style and design that you would like.
There are many details, both large and small, that you can decide on when designing a new home details are entirely up to you.
Budget Construction has helped thousands of customers build their dream homes, and we are ready to help you get the job done too. Call 1-844-969-2448 for a free consolation.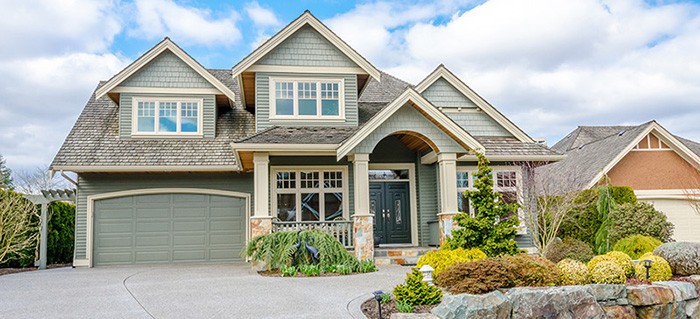 Building a New Custom Home Step-by-Step
At Budget Construction we walk each and every one of our customers through the entire home building process. As such, we've developed a handy step-by-step guide that will give you a brief overview of the steps involved in building your dream home.
STEP 1: Laying the Foundation
First, the foundation of your home will be planned out according to your layout designs. A home's foundation can be either a flat slab of concrete or it can be built to contain a basement. Once the foundation is poured a building inspection will take place to ensure all aspects are up to code. When the inspection is completed the framing that formed the foundation will be removed and the next step of the building process will commence.
STEP 2: Building the Frame
During this phase of the building process your home's shell, sometimes called a skeleton, will be built on your foundation. The home's walls, flooring system and roof frame will be installed and sheathed. Sheathing will be applied to the frame in order to protect it from the weather elements and prevent water from infiltrating the materials. This will ensure that no rot takes place or mold builds up.
STEP 3: HVAC, Plumbing and Electrical Systems Installed
When your new home's outer frame is completed then the house will start to take shape. This is the step when the plumbing and electrical system will be installed as well as any associated fixtures. Your water and sewer lines will also be hooked up. Any large plumbing item, such as bathtubs, will also be installed because it's easier to transport them at this stage. Any HVAC (heating, ventilation, air conditioning) units needed will also be put into the home. The light fixtures, switches and other items will be installed. At this point another building inspection will take place.
STEP 4: Insulation is Installed
Insulation is a home's best defense against the outdoor elements and temperature. It also plays a role in reducing outdoor sounds from entering the home. Insulation provides energy efficiency and helps you maintain a comfortable temperature indoors. The thermal performance of the insulation will determine how well the material resists heat transfer. In the majority of homes all exterior walls will be insulated along with the attic and the ceiling of an unfinished basement, provided you chose to have a basement installed in the foundation. Fiberglass and mineral-wool matts are typically used for insulation with paper attached that acts as a barrier against the air.
STEP 5: Drywall and Interior Finish
Next, your home's interior walls will be installed, typically called drywall, and other finishes such as trim can be installed as well. The drywall is then taped and a coat of primer paint is applied. Any exterior finishes such as stucco, brick or siding will be completed. Once those steps are completed, any fixtures such as counter tops, decorative trim, baseboards, cabinets and vanities can be installed. Any outside walkways or patios that you chose to have installed will also be completed. At this point your home will really start to take shape and when all is completed you'll be ready to move in and enjoy it.
Once these steps are completed and a home inspection has been finalized you will be ready to move into your new home. It's an exciting moment when you first enter a home that you built and designed exactly the way you wanted it to be. Having the experienced crew at Budget Construction by your side will go a long way towards getting your dream home just right at a price that will fit into your budget.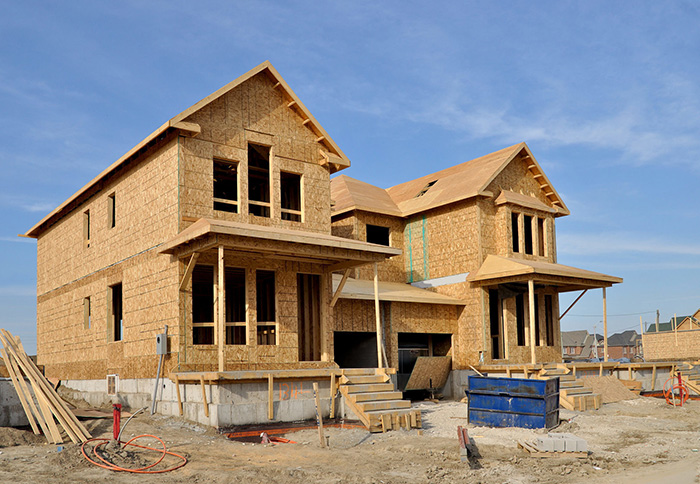 How Much Will Building a New Home Cost?
The cost of your new custom home can vary based on several factors. A house can have many different components to it. For example, you could build a home with a garage attached to it, multiple levels, a basement or certain advanced stylish features like a rotunda. You can choose to add other amenities like an outdoor patio, paved walkways, beautiful landscaping and a paved driveway.
The total cost of your home will depend on labor time, type of materials and the quantity of materials needed to complete the project. Larger, more complex homes will obviously demand more labor hours. Also, you may choose to have your home constructed with various materials such as wood siding, which is a bit more expensive than other alternatives such as vinyl. How large and intricate your home is will determine how many materials are needed to complete the job.
Budget Construction specializes in planning, designing and building new custom homes for our customers. Not only do we have the expertise, but we can offer you cost-effective solutions for your new home that are sure to fit into you budget.
Why Choose Budget Construction for Your New Home
There are very few contracting companies that are as qualified as Budget Construction and can still provide affordable rates to fit into your budget. Our contractors have the experience and a long list of qualifications that make us the best choices for new home constructions. We understand that you've been waiting for the opportunity to build you dream home, and we work hand in hand with our customers to help them achieve their goals.
The following are just a sampling of the guarantees that you'll receive when you employ Budget construction to build your new home:
Friendly, timely and caring staff.
Clean, safe and organized job site.
Noticeably detailed finish work.
2 million general liability insurance.
Full workers compensation.
96% on time completion record.
Quality installations guaranteed.
By the time your new home is built you will notice the difference when you employ Budget Construction. You'll see firsthand the top-quality work, professional attitudes and punctual arrivals of our contracting team. We understand that building a new home is an imposing task with many important decisions to make that will impact your lifestyle and satisfaction for many years to come. That's why we take an active role in the design and layout of your home, standing ready to assist you with any all concerns or questions you may have along the way.
Our team pledges to go the extra mile in providing high-quality service to our customers, and we know that we'll be able to exceed your expectations on the job-site.
See just how affordable and rewarding it can be to build your own home from the ground up, turning your imagination and dreams into a beautiful reality. Call Budget Construction at 1-844-969-2448 today for a free consultation and quote.