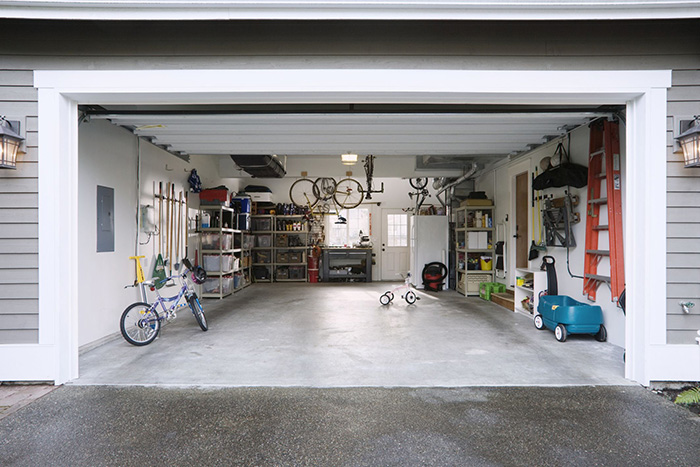 When most people think of a garage they imagine a place to put a car, store tools and anything else that you don't want or have room for in the house. While that was certainly the traditional use for a garage in the past, garages of the future have opened up a wealth of opportunities to utilize this space in new and innovative ways. The days of garages only being used for cars and storage are over because homeowners are now remodeling their garages to use for a new living space, hobby room, lounge room and guestroom.

Preparing For Your Garage Makeover
Even though garages have had a long reputation of being an unfinished extension of a home only used for storage of items you don't want inside your actual living space, there are many more options available today. If you use your garage to park your car in, then you likely simply park it and walk immediately into your home. It seems like you should get more use out of a garage than simple storage. With a few upgrades your garage can be morphed into one of the most useful and pleasant rooms in your home.
The following are some considerations when in the planning stages of your garage remodeling project:
Garage Door: Will you be keeping your garage door intact or will you want it replaced with a wall and regular door, or perhaps just a wall and you enter the garage from your home. Replacing the garage door with a wall and door will give you more wall space to work with, which is beneficial if you want to have somewhere to hang things. You could also place home windows and a door in the wall so it looks just like any other room in your home.
Flooring: Most garages have a simple cement floor, but it is easy to place actual flooring on top of the cement and use it as a base. You could install wood flooring, tile, vinyl or even carpeting to make the room as homey as you want it. If you're turning your garage into a workout or yoga room, then you could also place down rubber mats over the cement floor.
Lighting: Your garage likely has basic lighting, perhaps fluorescent lamps hanging overhead, but you'll probably want something different if you plan to remodel it into a room. Depending on the type of room you're intending your garage to become, you could choose to have actual light fixtures installed just like the ones in your home or create an entirely new lighting scheme.
Wi-Fi: If you're turning your garage into a media or recording room then you'll want to make sure you have a reliable internet connection. You may be able to utilize a wireless router if you have one in your home, or you can have wiring installed so you can hook up to your cable or phone internet directly in your garage. Your garage no longer has to be a glorified storage or parking space. Instead, it can be a room that reinvents your daily lifestyle for many years to come.
Budget Construction is standing by to help you turn your dreams into a reality, call 1-844-969-2448 for a free quote and ideas for remodeling your garage.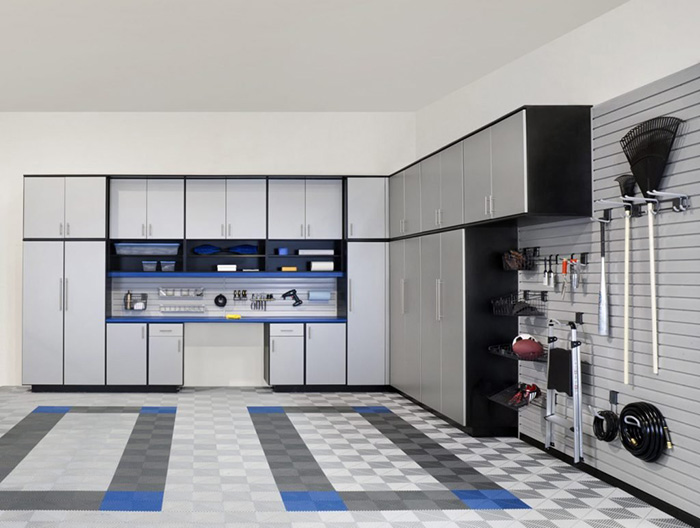 Popular Ideas for Remodeling Your Garage
For most homeowners the garage is one of the most under-utilized areas of the home. A garage is typically used for storage, but that job could easily be handled by other areas such as a shed or attic. Remember, your garage already has walls, a floor, roof and probably electrical hookups as well. It already has all the makings of an excellent room and there are many fascinating ideas to remodel your garage into an extraordinary living space.
Home Gym
Are you tired of having to go back and forth to the gym or leaving weights lying around the house? Then why not convert your garage into a home gym completed with all the amenities of a professional gym. Walls can be put up and painted, lights installed, rubber mats placed onto the floor and racks installed to store your weights. The room can be climate controlled and made comfortable for a great workout.
Hobby Rooms
Consider transforming your garage into a room dedicated to your hobbies. If you are into working on cars then your garage can be remodeled to include shelving, countertops and wall space to hang your tools on. If you are into gardening then your garage can be remodeled to contain easy storage areas for pots, bags of soil, seeds and gardening tools. Gaming enthusiast? Turn your garage into the ultimate gaming center so you won't have to monopolize the living room anymore or be confined to your room. Your garage walls can also be painted in colors that match your hobby, lifestyle and preferences so it looks just like a household room.
Playroom
If you have children then you know that toys often end up all over the house and cluttered up across rooms, it's natural, but there might be a better way. Turn your garage into a dedicated playroom where your little ones can enjoy themselves to their hearts content. Instead of drab old grey walls you can have them remodeled and painted so it's a warm and fun atmosphere for the children.
Recording Studio
Are you into music or making videos on YouTube? Then consider turning that old garage into a dedicated media room for all of your work and hobbies. You garage will become a room full of your own interests and designed to make your media ventures easier. If you are recording videos or music, then soundproofing can be installed so anyone inside the house won't be disturbed by the volume and you can play as loud as you want. Garages make a great recording space, and yours can be remodeled to match your specific needs.
Game Room or Lounge
Wish you had a dedicated entertainment room just to relax and get away from it all? Then remodeling your garage into a game room or lounge may be just the thing you need to enhance your lifestyle. If you want a lounge you could have a bar installed, pool table, jukebox and other amenities for you and your friends to enjoy. You could also turn your garage in a fun room for you and your family with games like pool and table football that everyone can enjoy. You could even add a ping pong table and a dart board if those are more your taste, the garage can be remodeled any way you'd like.
Guest Room or Rental Space
If you frequently have friends or family members staying over and are currently cramped for space, then perhaps remodeling your garage into its own all inclusive guest room is the perfect solution. You can turn your garage in an actual living space with a sleeping area, kitchen area and dining space just like a studio apartment. This way your guests have everything they need in one room and it frees up more space in the mornings in your home. Even if a guest room isn't needed you can always make some extra money by creating a rental studio apartment.
The ideas are endless and your garage can be remodeled into any type of room you can imagine. Budget Construction has helped many customers better utilize their garage and expand their living space.
Give us a call at 1-844-969-2448 and find out how we can provide a cost-effective way to enhance your lifestyle.
How Much Does Garage Remodeling Cost?
Remodeling your garage will generally be much cheaper than adding an entirely new room or addition to your home. This is because you already have all the makings of an interior room like a floor, walls, wiring and a door. How far you want to go with your garage remodeling project is entirely up to you. Because there are so many different ways to utilize a garage, such as an entertainment room or gym, the cost can vary greatly depending on your designs.
Here are a few factors that will determine the overall cost of remodeling your garage:
The amount of labor hours required in completing the project.
Materials that are needed to remodel the garage such as drywall and flooring.
Any new fixtures that are going to be installed like a new door or lighting.
Additional features such as counter tops, shelving or windows that need to be installed.
The cost of remodeling your garage can be very affordable compared to other home remodeling projects, and you get the added benefit of having an entirely new room to enjoy that's been designed exactly the way you want it.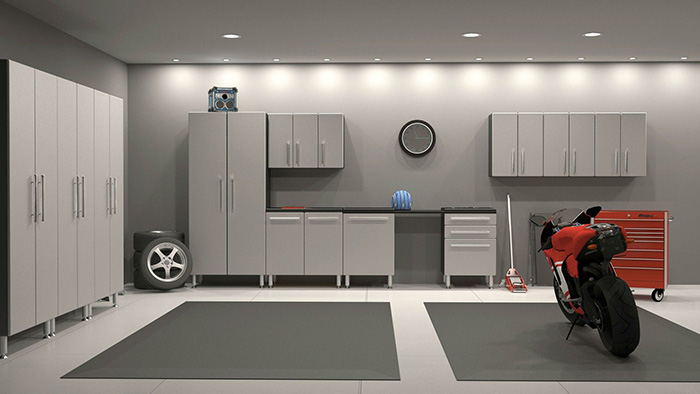 Why Choose Budget Construction to Remodel Your Garage
Remodeling your garage can be quick, easy and affordable when you partner with Budget Construction. We'll be with you every step of the way and we'll explain the entire process so there won't be any mysteries, you'll get exactly what you're paying for. Speaking of rates, Budget construction offer all of our customers the absolute lowest costs in the industry. Whether you're turning your garage into a game room or home gym, we have the experience and qualifications to get the job done on time and professionally.
You'll receive top-quality service on every project with Budget Construction and we pledge to offer:
Friendly and caring staff.
Clean, safe and organized job site.
Noticeably detailed finish work.
2 million general liability insurance.
Full workers compensation.
96% on time completion record.
Quality installations guaranteed.
Our experienced staff at Budget Construction has helped many customers turn their plain old garages into stunning new living spaces. If you have a garage that isn't being put to good use and would like it to start contributing more, then let our qualified contractors help you through the process. We can give you some fantastic ideas based on your interests, hobbies and lifestyle. We'll go the extra mile and make sure the new room you create is exactly what you've always wanted.
It can be super affordable to remodel your garage when you choose Budget Construction, just give us a call at 1-844-969-2448 and let us create a brand new living space for you.