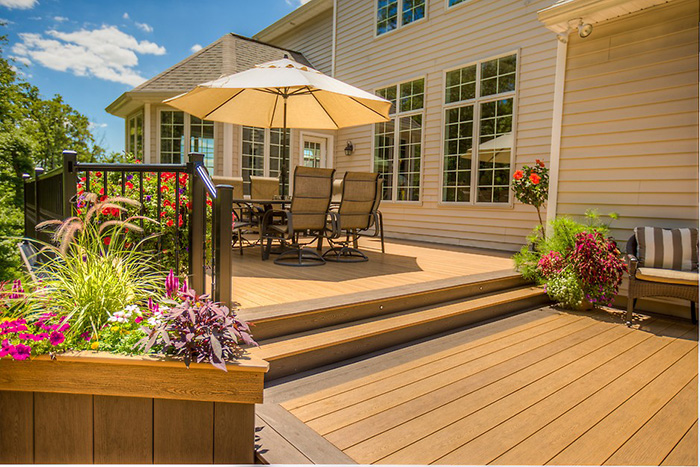 Patios and decks can virtually transform the exterior of your home into a fantastic work art, while at the same time giving you amazing functionality and utility. Patios provide an area to relax and socialize outdoors in style. Decks are equally useful and allow easy access to the outdoors while also adding value to your home. With a deck or patio you can give yourself an area to grill, host social gatherings, enjoy the outdoors or simply relax and take out the surrounding scenery. A deck or patio can greatly increase your daily satisfaction with your living space and give you yet another area of your property to enjoy. Decks and patios also open out a world of opportunities for outdoor dining and admiring the outdoors.

Ideas for Patio Designs
A patio can lend a lot of beauty to your home while at the same time enhancing its value and capabilities. There are many different styles of homes, and fortunately there are just as many patio styles to choose from.
Paved Surface Patio: The simplest and a very cost-effective style of patio that is simply a paved surface right outside your home. You can choose to pave a small area that is connected to your home in order to have a flat, stable area to place a grill, lawn chairs or tables. You'll see these paved surface often outside of a sliding door or backyard.
Enclosed Patio: If you live in a hot climate or a location where bugs and insects are an issue, then a patio enclosed with a screen could be a great option to enjoy the outdoors without pests buzzing around. Screens still give you exposure to the outdoors and a nice view, but will still keep pests away. It's very useful if you are eating outside to protect your food from insects buzzing around it.
Patio With Roof: When you want open air combined with protection from the rain or sun, then consider installing a patio with a roof on top. This option is great if you don't want to be kept indoor because of the weather or want to sit in the shade protected from the sun.
Let Budget Construction help you build the perfect patio that you've always wanted, call 1-844-969-2448 for a free quote today.
Patio Surface Material Options
A major determining factor in the overall appearance of your patio is the type of surface material you choose for your flooring. The surface material of your patio will give it a unique appearance and can greatly enhance the beauty of your surroundings. There are several factors that you can use to help you decide one which material to employ such as the size of your patio, its location, your personal preference and budget. The following are some materials that are commonly used for patio surfaces.
Concrete Patio Surface
One of the most affordable materials to use as flooring, concrete is a solid choice for practicality and longevity. It is also very easy to maintain, clean and install. You'll be able to depend on the structure of your concrete patio floor for a very long time. Concrete doesn't have to be a simple grey color either, you can choose stamped concrete that comes in a variety of color and pattern options that look very attractive.
Concrete is very versatile, easy to mold into various shapes and form into patterns. The following are some examples of concrete styles you can choose for your patio.
Stamped
Brushed
Smooth
Colored
Decorative
Patterned
Painted
The one downside to concrete is that it is susceptible to damage from freezing temperatures over the years, which can lead to cracking. Concrete can still work well in colder climates, but you'll have to be vigilant and ensure it is maintained.
Clay Brick Flooring
Clay bricks have been around for a very long time and have been used for many construction projects including flooring. Bricks are often used for outdoor pathways, steps, decorative borders and even patio flooring. A brick patio floor can look very beautiful, especially when it matches up with your home's outward appearance. They also provide a classic, practical look that is also reliable. Keep in mind that a brick surface will cost a bit more than other options, but the end result can be well worth it. One of the major benefit of bricks is they allow you to design a floor in a variety of different patterns. They can be laid out side by side, in a circular pattern or zig-zag styles. Bricks last a fairly long time, but they will likely require an occasional cleaning to keep up dirt and mold.
Flagstone Surface
Flagstones are simply made from quarried rock and shaped into a flat surface to provide a stable flooring solution. Flagstones can be placed with mortar between them to use for sealing, or they can be placed on top of gravel. The gravel can be small white stones which create a pleasant contrast with the grey color of the flagstone, or you can choose gravel that matches and blends with the flagstone. It is a slightly more expensive option, as natural stones require more effort and work to produce, but many people are willing to spend the extra bucks to achieve the natural look they provide. Flagstones are also very heavy, so it requires a bit more labor time to place and install them properly. However, they will last an extremely long period of time and require very little maintenance. You could easily keep them clean by just spraying them with a hose.
Tile Patio Flooring
There are a wide range of tile options to choose from and you can customize the layout and design of flooring very well with tiles. They are a very popular patio flooring choice because of the variety and specific style they can offer. If you want to have a patio floor that precisely matches your personal preferences, is easy to clean, great to walk on and easy to clean then tile may be the perfect options for you. Typically, tiles are places on a flat base that needs to installed, such as concrete, so the tiles will be perfectly level and flat. Tiles will allow you to create a very clean, sophisticated look for your patio and you can choose colors that will match beautifully with your home and surroundings. It should be noted, however, that if you don't have a covered patio then tiles can get very slippery when wet or if they are covered in snow. There are various tile options to choose that vary in price, so you'll have a good selection that can conform with your particular budget.
Patio Pavers
Another great option that provides many style choices are called pavers. Pavers are easy to install and work with because they are typically made of artificial materials that are made to look like natural substances such as stone, brick or even wood. Pavers are designed to interlock with each other, so there is no need for mortar to be placed in between them. Many walkways and patio floors that look just like real stone or tiles are actually pavers. They are low cost and require less labor to install them, which makes pavers an attractive option when working on a budget. They are also very easy to clean and maintain. Pavers are very versatile and can even look just like cut stone. Many homeowners end up choosing pavers for their patio surface because of their low cost and the wide variety of style options available. If you want the appearance of a natural wood floor, but don't want the cost and maintenance involved, then pavers would be an ideal option. Pavers can also be used for your deck and are very effective at providing a solid surface at a low cost.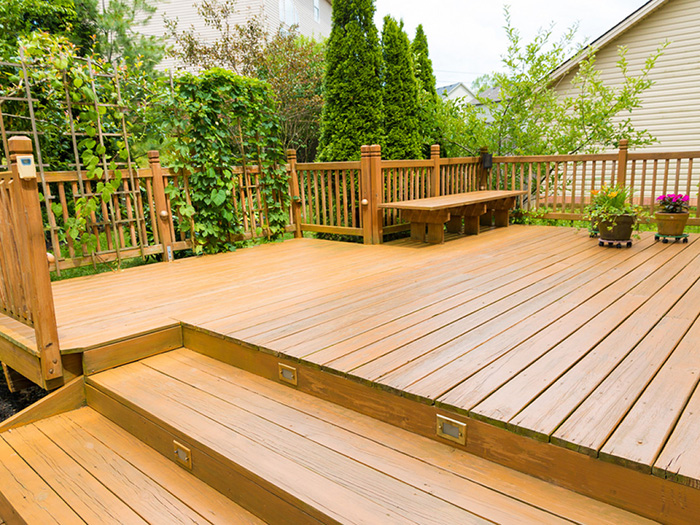 What Are Some Popular Deck Designs?
The process of building a deck on your home can be very exciting, but there are also a multitude of deck styles and options to choose from. A quality deck can easily last for decades and will pay off as both a place to enjoy leisure activities and a valuable addition to increase the value of your home. Most of the time, a deck is a lower cost construction project for your home that can come will amazing benefits. A deck can be as extravagant or as simple as you want it, the choice is entirely up to the homeowner.
Wood Decks
Still one of the most popular options for decks, treated wood can be used to construct all portions of your deck, from the flooring to the railing. Many homeowners prefer wood over synthetic materials because of the natural beauty it adds to a home. Wood can also be stained in a wide range of colors, from dark to light and everywhere in between. There are various types of wood to choose from including redwood, cedar or oak. Wood decks will last a long time as long as the wood is sealed and maintained properly.
Composite Decking
Constructing your deck out of composite is a good choice for homeowners who want the look of wood, but also want a lower cost material. Composite decking is fabricated by the manufacturer and is a mixture of wood and plastic. The result is an environmentally friendly materials that carries with it some of the benefits of both wood and plastic. The material can look very much like real wood, but will last longer with a lower level of maintenance requires.
Vinyl Decks
A good choice for homeowners who don't want the look of natural wood and great at keeping down costs, vinyl has become an increasingly popular option for decks. Vinyl decking comes pre-formed straight from the manufacturer and then is installed in the dimensions that the homeowner wants. Even the railings can be made out of vinyl so your entire deck matches seamlessly. Vinyl lasts a very long time. It is also easy to clean and maintain. If you don't want a wood look and are working on a budget, a vinyl deck could be an ideal choice.
How Much Will a New Deck or Patio Cost?
Your new patio can come in a range of styles and designs. It can also be built with various materials. For example, you could choose to have tile flooring or perhaps you'd prefer colored cement. These specific style design options, along with the size and scope of your patio are some of the primary factors in determining its overall cost.
Another factor in the cost is the size of your deck or patio. A deck that is small and only encompassing a small portion of your home will cost much less than a deck that wraps around an entire side of your home. Patios can be as simple as a paved area outside of your back door where you can place chairs and perhaps grill outside. Or, the patio can have a roof, walls and stylish flooring and be as large as you'd like it to be.
In short, the price range can vary greatly depending on your chosen design, style and size. The good news is, Budget Construction specializes in delivering high quality decks and patios at the absolute lowest prices.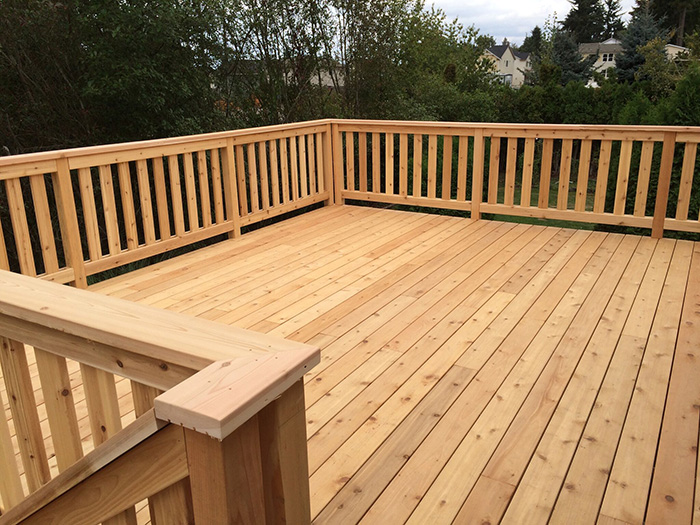 High-Quality Patios and Decks at Budget Prices
If you've always wanted a beautiful patio or deck for your home, but don't want to have to spend an arm and a leg, then Budget Construction has the perfect solution for you. Our team of certified contractors have built hundreds of patios and decks for our customers over the years. We have the experience and expertise to get the job right and on time.
We at Budget Construction pride ourselves in delivering the highest level of service on each and every one of our projects. When you hire us to complete a job you can count on:
Highly detailed finish work.
Friendly, courteous and caring staff.
Clean, safe and organized job site.
100% quality installations guaranteed.
96% on time completion record.
2 million in general liability insurance.
Full workers compensation.
We use only the highest quality materials for your patio or deck and we can show you a range of options to choose from. Our expert staff can present you with a variety of designs, styles and materials so you can make the perfect choice for your home. A patio or deck can not only give you a beautiful location to relax and socialize, but it also adds value to your home and will last a very long time. Consider adding a patio or deck off of your back door so you step out into nature with style.
Whether you just want a small patio directly outside your door, or if you want a large deck attached to entire side of your home, Budget Construction has the experience and the most affordable prices to offer you.
Call Budget Construction at 1-844-969-2448 and find out just how affordable it can be to add a new patio or deck to your home!